Ignoble Dances
 was written in 2020 by Karim Al-Zand, a composer and Musiqa Artist Board member whose music is diverse in both its subject matter and its audience. Al-Zand's compositions explore connections between music and other arts, and draws inspiration from graphic art, myths and fables, folk music of the world, film, spoken word, jazz, and his own Middle Eastern heritage.
Each of the seven short pieces in Ignoble Dances draw musical influence from a variety of sources. Written in 2020, its music reflects upon that disconsolate year. The title of the first movement, Antemasque, refers to a "buffoonish dance" that precedes a masque, a courtly entertainment of the 16th century. Of course, "anti-mask" gained another meaning in 2020. Denial, Duplicity, Dog Whistles: all played a role during the turbulent year 2020, and all make appearances in the seven pieces that make up Ignoble Dances. The set concludes with a pavan: a slow, stately Renaissance dance. In 1648, composer Thomas Tomkins wrote a lament in memory of King Charles I, entitled "Sad Pavan for These Distracted Tymes." In Al-Zand's pavan, which draws on the Tomkins, it is the music that is distracted and the times that are sad.
In the 16th century, a performance called a masque might be written with the intention of flattering the king. The antemasque which preceded it would present performers in more grotesque and crude situations, sometimes portraying political enemies.
Al-Zand's Antemasque is a funky, groove-based dance. The pianist's left hand is playing a forceful ostinato – a continually repeated phrase – at a constant loud volume, while the tambourine keeps time. The flute layers music on top: either angular and syncopated, or part of a sustained "thickened line" with the piano.
Al-Zand based the theme of Antemasque on a 12-tone chromatic scale, which he rearranges and re-orders to create the melody.

In this video flutist Matthew Roitstein illustrates the 12-tone scale that the theme is based on, followed by the theme.
Ignoble Dances incorporate quite a few unique flute techniques. Matthew Roitstein demonstrates the "jet whistle" technique used in Antemasque.
The piano in Antemasque is playing a similar role to the piano in the famous Mission Impossible Theme. Both pieces also use unusual time signatures that break up the music into irregular groups: Antemasque has groups of 7 beats, and the Mission Impossible Theme has groups of 5 beats.
The foot tambourine is just one of many variations of this versatile instrument, which has existed for more than 4000 years and was played by ancient musicians throughout Africa, Asia and Europe.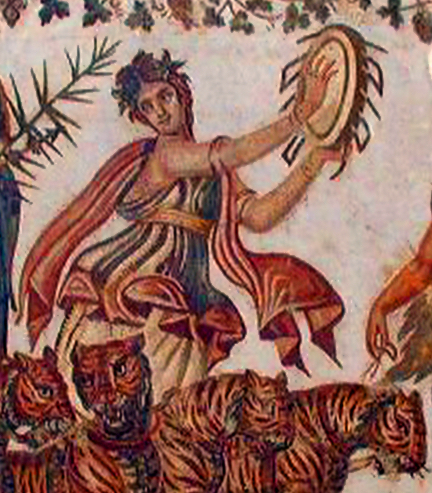 Dance of Duplicity is a ragtime "slow drag" two-step that is constantly interrupted. Ragtime was the first African-American musical form to find major commercial success among white Americans. The most famous composer of rags is undoubtedly Texas native Scott Joplin, considered by his contemporaries to be the King of Ragtime.
Many famous rags are fast and lively, but Al-Zand's 
Dance
 is slow and leisurely, much like
Joplin's 
Heliotrope Bouquet.
A certain amount of freedom is given to the performers to take time between phrases.
In his 1911 opera Treemonisha Joplin included A Real Slow Drag: you can watch the dance in the 1982 Houston Grand Opera dance in this video.
This dance incorporates glissando – the technique of sliding up or down between two notes.
Dance of Denial is inspired by the tarantella, a type of folk dance that originated in Italy. The tarantella is named after the tarantula, whose bite was wrongly believed to cause a frenzied and hysterical reaction. The tarantella dance is almost a kind of contest between the musicians and the dancers: each of them tries to last longer than the other.
Al-Zand's Dance of Denial becomes increasingly frantic from beginning to end. The flute's cadenza – an ornamental and mostly solo passage – provides respite from the build-up before joining together with the piano for an even more frantic ending and a final dramatic, clamorous collapse.
"Its bite rarely kills a man, but certainly makes him half-senseless, and variously afflicts him with something the common folk call tarantula. Certain people are so excited by hearing a song, or music, that full of joy and always laughing, they leap in dance—nor do they stop until exhausted and half-dead. Some continuously weep, as if passing their life in constant sorrow in longing for their possessions. Others—at the very sight of a woman—are instantly inflamed with the blaze of lust, and hurl themselves on her as if mad. Some might perish from laughter, others from weeping."
– the first mention of the Tarantella, from the 15th century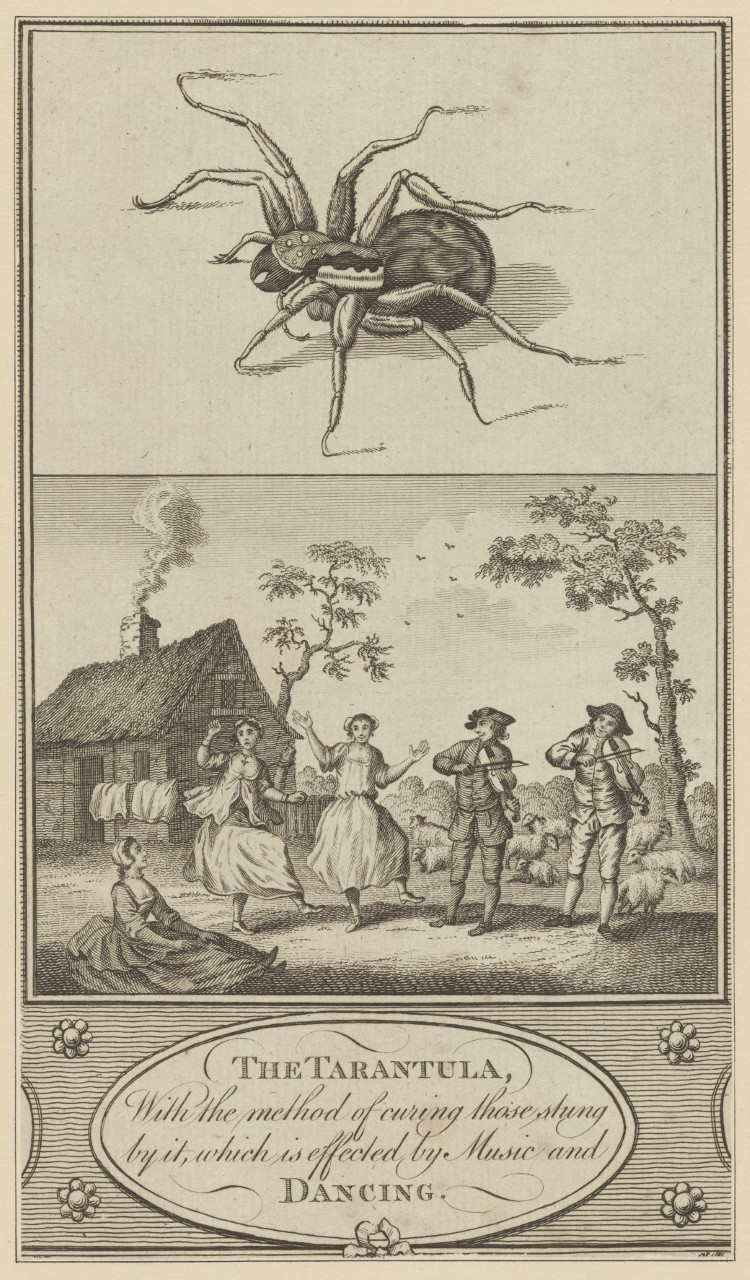 This dance incorporates the "flutter tongue" technique, illustrated by Matthew Roitstein in this video.
Many composers write music that gives a great deal of freedom to the performers. 17th century French composer Louis Couperin is famous today for his "Unmeasured Preludes", works for harpsichord that let the musician decide how long to hold each note.
Al-Zand's Distanced Dance takes a similar approach. Dotted/open-headed notes indicate longer length, but all phrases have a push and pull: the notes moving along quickly overall, but tarrying to emphasize a pitch or expressive interval here or there.
In this dance the main theme is made up notes from a very simple major scale, but it has been re-ordered and made disjointed.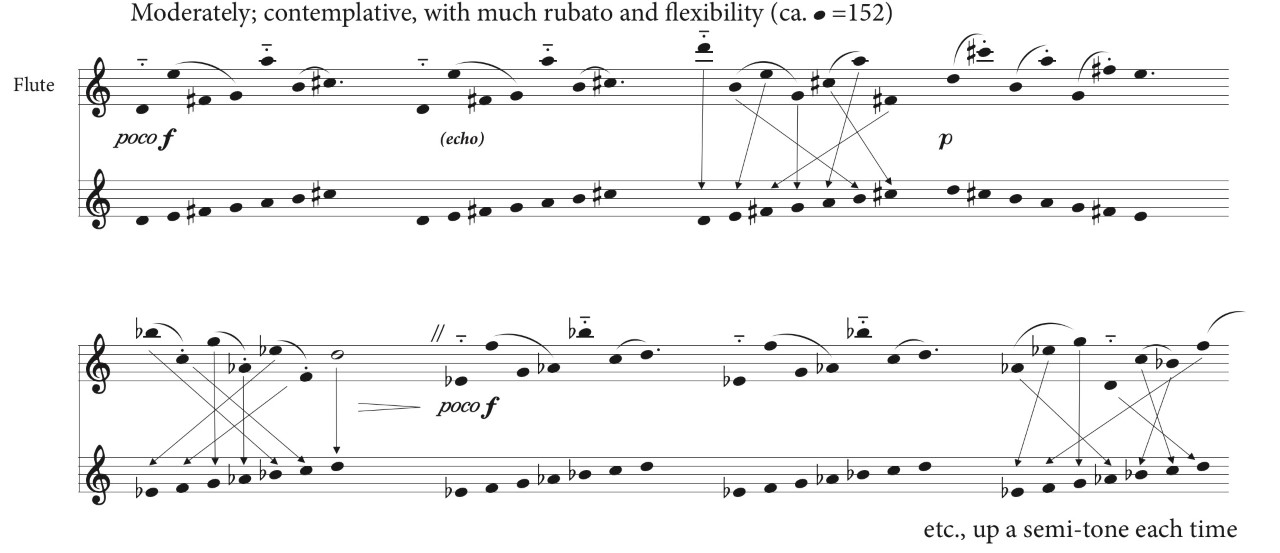 Matthew Roitstein demonstrates this scale and the theme based on it. Note the calm, serene theme that results, as opposed to the theme of Antemasque, which utilized a scale with more notes in it.
Because of the improvisation allowed for in Couperin's "Unmeasured Preludes", music theorists still debate the meaning of the notation in his scores over 400 years after they were written.
5. J.B. Dances a Jig in the Gloom
The jig is a dance and music mostly associated with Irish and Scottish traditions. The word "jig" likely comes from a French word for "jump", and these pieces are often lively, quick tunes written in 9/8 or 6/8 time.
J.B. Dances a Jig in the Gloom juxtaposes a lively flute jig against a somber and moody piano. The flute begins tentatively at first, but gains prominence later. Eventually, the piano music becomes thicker and the jig recedes. Again, Al-Zand gives the performer some freedom to make personal choices: the flutist is encouraged to add embellishments, especially ones that suggest the traditional idioms of the Irish flute or tin whistle.
Jigs and other traditional Irish and Scottish dances and tunes had a major impact on music in the United States. Famous jigs like "The Irish Washerwoman" became a part of America's early traditional repertoire and still inform country and folk music today.
In this video, Roitstein demonstrates the jig alone, without the piano accompaniment.
Al-Zand's jig ends with the flute performing "key clicks".
Dog Whistle Dance introduces another member of the flute family to this collection: the piccolo, which plays an octave higher than the traditional concert flute.
There are several other variants to the Western Concert Flute and its sibling the piccolo. In the video to the right, Matthew Roitstein demonstrates the lower alto flute, performing the Dog Whistle Dance an octave and a fifth lower than the piccolo.
7. Distracted Pavan for These Sad Times
In 1648, composer Thomas Tomkins wrote a "Sad Pavan for These Distracted Tymes." Al-Zand's pavan, which draws on the Tomkins, inverts this formula by lamenting the sad times with a distracted musical theme.
A pavan is a slow, processional dance common in 16th century Europe. Al-Zand's inspiration for this piece can be heard in this video.