Traces of Blue
January 12, 2019 | 7:00 pm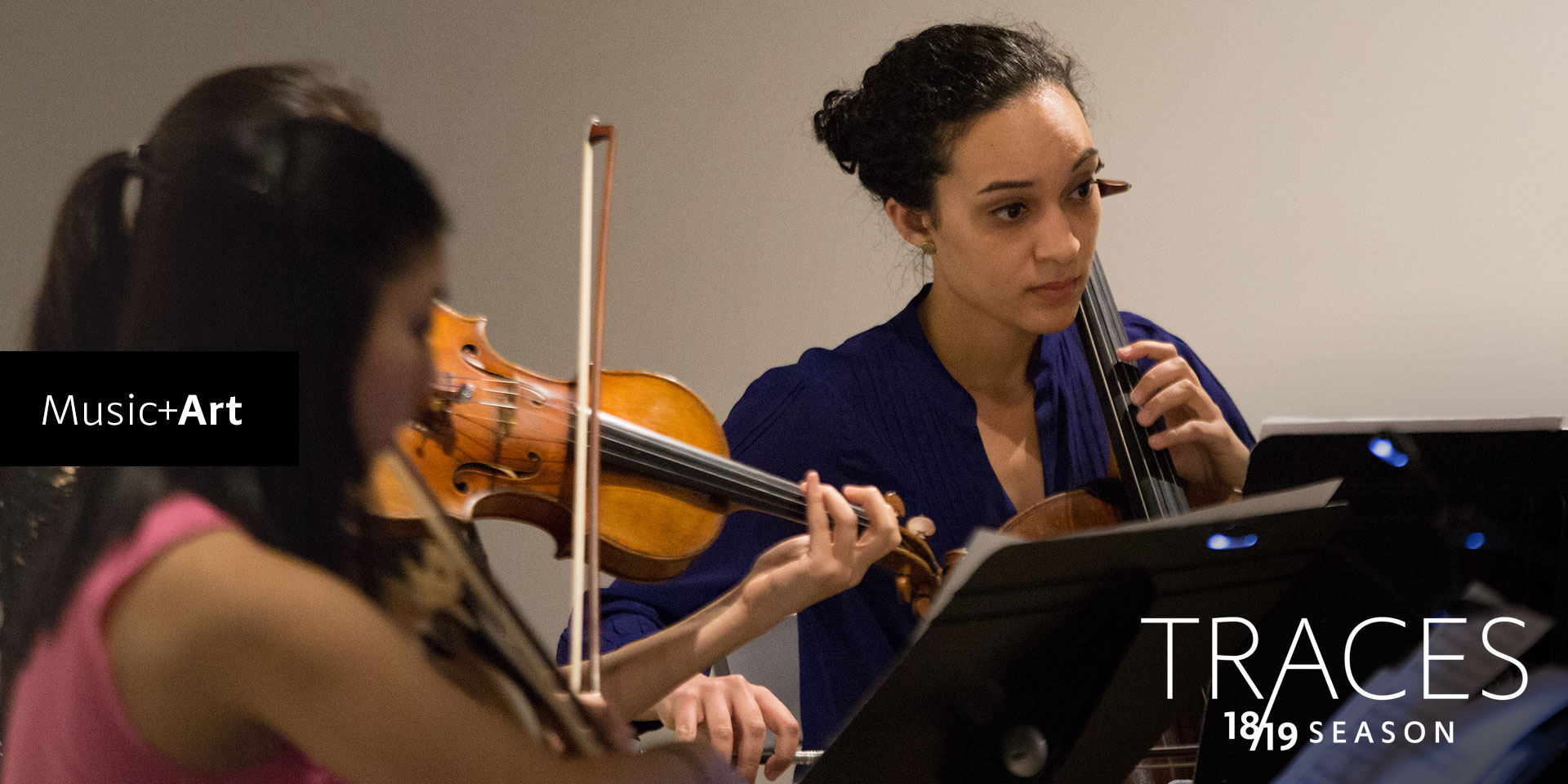 Color, texture, and motion in music
Celebrated abstract painter Robert Motherwell once stated "art is an experience, not an object." Experience an evening of dynamic works that explore color, texture, and motion in music, featuring the world premiere of a piano trio by Karim Al-Zand's, commissioned by Musiqa. Gaze into the creative process as celebrated Houston artist Geraldina Interiano Wise paints live in front of the audience in tandem with a musical performance. Works by Gosfield, Hartke, and Loiacono are also on the program.
4:00pm – Open Rehearsal: $20 | Buy Tickets
7:00pm – Pre-concert talk
7:30pm – Performance: SOLD OUT
9:00pm – Post-concert reception (Pioneer ticket holders)
General Admission: Pay-what-you-wish
ON THE PROGRAM
Karim Al-Zand: Six Bagatelles for piano trio (world premiere) Annie Gosfield: The Blue Horse Walks on the Horizon for string quartet Stephen Hartke: The Blue Studio for piano trio Loren Loiacono: Waxing Cerulean for string quartet
ARTISTS
Jackson Guillen, violin Natalie Lin, violin Sergein Yap, viola Barrett Sills, cello Wesley Ducote, piano with Geraldina Interiano Wise, visual artist
TICKETING
Pioneer All-Access Ticket: $125
Priority seating on stage and admission to post-concert reception with artists
Pioneer Ticket: $50
Priority seating and admission to post-concert reception with artists
Explorer Ticket: $35 (Suggested)
Adventurer Ticket: $20
Traveler Ticket: $10 (Suggested Student)
Discover Ticket: $5
For first-time Musiqa patron (limited quantity, advance purchase only)
Geraldina Interiano Wise
Geraldina Interiano Wise, originally from El Salvador, came to the US to attend university with the intent of returning to serve her country in the planning and design of affordable housing. Having graduated from Rice University '83 & '85, in Architecture, Art and History of Art, and 20 years designing houses, it took her last child leaving to college to get back to her art. The Glassell School of Art, of the MFAH, was instrumental in guiding the art practice of this era. Under Francesca Fuchs, Brian Portman, and Karin Broker she found her voice and matured her practice of art.
This project has its inception on the ravines of the volcano, where-under the tutelage of Violeta Bonilla, a protegé of Diego Rivera- Geraldina learned to paint in the shade of bamboo, under the watchful and curious eyes of the children of the creek. Performing art came early for her. Her artist's voice comes deep from the intellectual patrimony of her Maya ancestry, rooted in the fast-changing cultural, social, physical and scientific environment of Houston and the United States. She researches the origins of the universe, the waters of the planet, genetics, the brain, migration of man, Maya mathematics and astrology, archeology, cave art, evolution and climate change. The overarching themes in her work -across painting, printmaking, and sculpture- are coexistence and connectivity.